Bio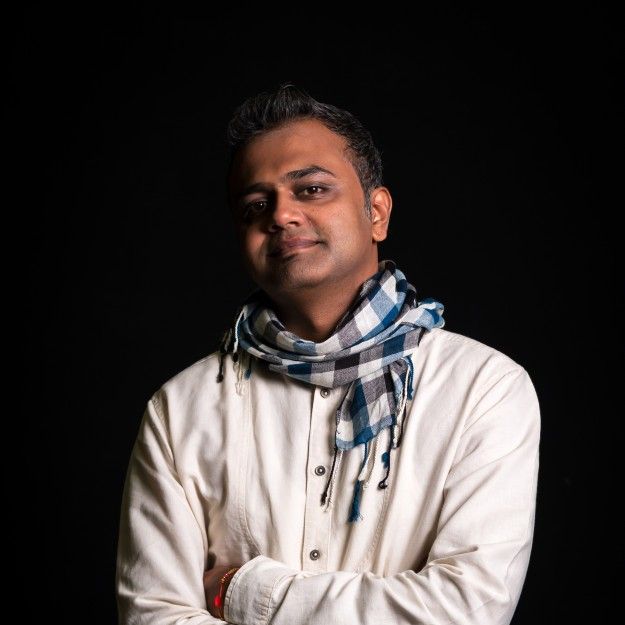 Viveick is a musician, composer and innovator.
Trained under the Carnatic tradition on the majestic percussive instrument of South India, Mridangam, Viveick uses his classical roots to compose music that moves between many styles. His music is stamped with this unique sound, reflecting his influences from electronic, drum-n-bass to jazz and folk. His ability and determined diligence to retain the unique flavour of Indian music while seamlessly integrating it into his collaborations and performance, is unmatched among many other musicians of his time.
"Creativity begins where the mind pauses", this has been the driving force for most of Viveick's experiments with music. His Live shows always have one thing that is left to create spontaneously, that is a reflection of the energy from the audience through Live Looping and creating a spectrum of soundscapes.
His quest for sound led him to create his own "Mididangam" which is a first of its kind midi device based on the actions and techniques used to  play the Mridangam. 
Although his cooking skills are better not spoken about, most of his metaphors about music have always been through the culinary art. For instance "You blend the ingredients, not the dishes'', is how he "cooked his dishes" as Viveick Rajagopalan Collective, Ta Dhom Project or One Plate Idli.
He has composed and produced music for over 300 ad films along with some iconic brand audio  - UTV and Mathrubhumi News. In 2009, he scored the music for a popular British sitcom, Mumbai Calling.
Along with his partner Aishwarya Natarajan, they co-founded SUNOH, a brand audio consulting outfit. With "Tyuns" which is a patented tool, based on the idea that sound colors your mind, the vision is to bring a clear balance in the science of audio along with the art in the world of brand audio.
Anantha R. Krishnan and Vivieck's collective passion sowed the seeds of Mridangamela, which  is a festival and events property, that brings together a world class curation- of interdisciplinary performances, stories and legends - all centred around the mridangam. The art director is Kunal Naik and the on ground event manager is K. G. Ramnarayan.
www.artsqft.com is a virtual platform that has been built from ground-up along with his partner Atul Shukla, which aims to empower artists to take charge of their virtual business and engage constructively with their community.
He is also a proud endorsee of the Harman Professional,AKG microphones.
WOMAD (UK), SHAMBALA (UK), OSLO MELA (NORWAY) in 2019 for Ta Dhom Project 
WOMEX 2018 Edition at Las Palmas de Gran Canaria, Spain for Ta Dhom Project 
Bestival, Festival No. 6, Shambala Festival – 2013, for In Place of War, a special collaborative project by University of Manchester, with artists from Brazil, Africa, Nepal 
Les Suds a Arles in France, 2009, for a special showcase with his band 
Represented India at the Commonwealth Concert Tour in 2002 with Music director, Courtney Pine  
International Jazz Festival '96, Thailand, along with Dinshaw Sanjana and other talented Jazz artists